The Humidity of South Central Pennsylvania – How It Could Lead to Fire Damage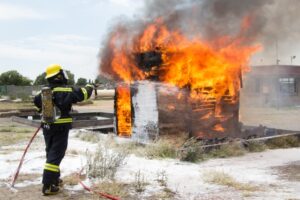 The climate throughout Pennsylvania, especially South Central Pennsylvania, is known as a "humid continental" climate characterized by fluctuating seasonal temperatures. The summers in South Central Pennsylvania are hot and humid, with temperatures often rising above 90° F. However, this isn't the case all year round, and temperatures change during the spring and fall months, making the state more susceptible to fires. This article will discuss relative humidity and how it can lead to fire damage in South Central Pennsylvania.
How Does Humidity Affect Fires?
The weather can have a huge impact on fires and how quickly they spread. This includes everything from maximum temperature and wind speed to wind direction and relative humidity. Relative humidity measures how close air is to complete saturation and refers to how much moisture is present in the atmosphere. It is measured in terms of the actual amount of water vapor in the air compared to the amount needed for the air to be saturated (100% RH). For example, if the relative humidity is 35%, it means that the atmosphere consists of 35% of the water vapor at that exact temperature.
Low Humidity
So, how does humidity affect fires? The lower the relative humidity, the more readily a fire can start and burn. This is because the moisture in the fuel absorbs the heat and reduces the intensity of the fire. On the other hand, when relative humidity is high, the moisture cannot evaporate into the air as easily. Therefore, the lower the relative humidity, the faster the moisture will evaporate.
Additionally, humidity varies with temperature, with humidity decreasing as temperature increases. As a rule of thumb, relative humidity halves with each 20° F increase in temperature and doubles with every 20° F drop in temperature. In very dry conditions, the moisture is transferred from the fuel to the atmosphere, and the fuel becomes even more flammable and burns more rapidly.
High Humidity
The lack of humidity in the spring and fall months makes fires burn more vigorously. However, it's not only low humidity that can lead to fire damage. High humidity can do so as well. As previously mentioned, South Central Pennsylvania is known for being humid during the summer months. This humidity can wreak havoc on your house by causing electrical issues, affecting wiring, and worsening fire damage.
Most electrical devices can operate at 30% to 50% relative humidity. However, when relative humidity goes past 50%, it can cause a variety of electrical issues. The warm air in your home can come in contact with cool surfaces and cause condensation, leading to rusting, corrosion, and short circuits.
When wires are wet, they corrode and wear out, resulting in short-circuiting. Because the water increases the current in the circuit, it causes low insulation resistance, leading to short-circuiting and frequent tripping. Repeated short circuits and condensation in electrical devices are some of the leading causes of fires. This is because corroded wires and short-circuiting lead to fuses being blown. This, in turn, causes the wires within the electrical devices to heat up and start fires.
Wildfires in Pennsylvania
Wildfires in Pennsylvania are most common during winter and fall, with low relative humidity and plenty of available fuel sources like dried leaves and grass making wildfires more probable during these months. It should be noted that when humidity is low (below 30% relative humidity), fire is more easily spread between piles and can cause greater damage.
Relative humidity reaches its minimum during the afternoon when the temperature is the highest. This, combined with dry conditions during the winter and spring months and fuel available, makes wildfires a huge problem in Pennsylvania. In the spring, as the sun climbs higher in the sky, the days become warmer and longer.
Since the trees have lost their leaves in the fall, the sunlight easily reaches the floor of the forest, making the ground extremely warm and helping to dry surface fuels. The leaves falling during the season result in a layer on the ground that becomes a fire hazard. Dry winds result in combustion and this fuel starts damaging wildfires.
Call 911 Restoration of South Central Pennsylvania for Fire Damage Restoration
Whether it's an electrical fire triggered by short-circuiting or a wildfire that has spread to your home or commercial space, we understand that fire damage can be devastating. It can disrupt your life and bring your business to a halt. In addition to destroying your property and possessions, fire damage results in a smelly mess that can be difficult to live with until it's fully restored.
Furthermore, the water used to put out the fire in your home or commercial property can cause extensive water damage, resulting in mold and other harmful growth if not properly treated. A licensed, bonded, insured, and experienced restoration company is required to take care of completely restoring your property and ensuring that your life goes back to normal as quickly as possible.
That's where 911 Restoration of South Central Pennsylvania comes in. We are locally owned and operated and have over 35 years of experience in fire damage restoration and water damage restoration. Our IICRC-certified technicians are also fully trained to handle mold removal and are available for emergency calls 24/7. We can remove all traces of fire and smoke damage from your property and have a quick response time of only 45 minutes. Call us at (717) 670-4694 or contact us here for more information.