Are Pan Fires Dangerous? What to Do After a Small Kitchen Fire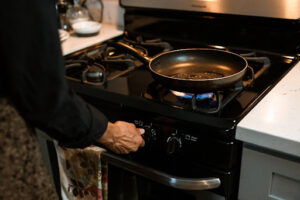 Most cooking fires start in the kitchen, which can quickly spiral out of control and become a rampaging house fire if you're not prepared to control it. Cooking isn't a dangerous activity, but things can get out of hand quickly when you're distracted cutting vegetables and preparing food. 
You will be exposed to high heat or flames when cooking in a pan, and pan fires, also known as grease, tend to catch on easily. That's why you must take preventive measures while cooking so that if your pan catches fire, you are ready to handle it before it escalates into a major problem. 
We will be discussing the dangers of pan fires and the recommended steps by the National Fire Protection Agency you must follow after a small kitchen fire here. 
How Do Pan Fires Start During Cooking?
Most kitchen fires are caused by inattentiveness when your mind is elsewhere, and a flammable ingredient mixes with a high heat source. Dripping fats, cooking oils, and grease can cause pan fires because when left in the pan for a prolonged period, the oil boils to an extreme temperature and will start to smoke, resulting in a pan fire. 
In general, the smoking point for vegetable oils is around 450 degrees, meaning that if your pan is heated to 500 degrees, it's likely that your pan ends up catching fire. Nevertheless, you don't have to worry about starting a small fire every time you cook in your kitchen. There are simple steps you can follow to prevent pan fires during cooking. 
How to Prevent Pan Fires in the Kitchen?
If cooking is your passion, you must also learn how to handle a grease fire in the kitchen so that it doesn't happen repeatedly and causes fire damage in your kitchen or home. Here are some steps you can follow to prevent pan fires in the kitchen:
Always Attend to Your Food in the Pan 
You must pay attention to the food cooking in your pan in the kitchen. That means avoiding chatting on the phone with your friend or colleague while cooking, as any distraction can result in a pan fire. If you must talk on the phone while you cook, ensure that you don't stroll out of the kitchen while talking, especially if you have left the stove at a high temperature. 
It only takes around 20 seconds before the pan starts to smoke and will catch fire in another ten seconds. If you must leave the kitchen to open the front door, or attend to an emergency with your children, always turn off the stove before you leave the kitchen. 
The last thing you want to do is stand in front of your stove or oven after work and cook dinner in the kitchen. You may have had a bad day at work or maybe physically exhausted and mentally drained after a taxing day in the office. It's not the smartest idea in the world to start cooking in that state, as you are likely tired and won't pay attention to your cooking. 
You can always prepare your meals, or even better, order some takeout when you are drained after a long day to avoid costly mistakes in the kitchen. A fire isn't the only problem you may face while cooking tired, as you may burn your hand on the stove or even cut your fingers cutting up vegetables. You must give your undivided attention to cooking, which is why it's advised not to cook while you're exhausted or intoxicated. 
It's always better to get rid of all the moisture from the food before starting to cook. Food with higher moisture content will not react well with a hot pan and may start a fire. That's why it's advised not to put frozen food into hot oil because it causes cracks in your pan and will start a fire in your kitchen. 
Slowly Heat the Oil in Your Pan 
To ensure your pan doesn't catch fire, you should always heat the grease oil slowly. That means you shouldn't start heating the oil in your pan at a high temperature before putting the food into the pan. You should start at a low temperature and then slowly raise it so your pan doesn't become too hot. 
You should also be gentle when adding food into hot oil in the pan, as that is the best way to ensure that you don't get splattered with hot oil and burn your skin. You should also wear gloves when cooking in a pan so that hot oil doesn't get on your hands.
What to Do After a Small Kitchen Fire?
If the worst has happened, and your kitchen has suffered a small fire, keep calm and don't lose your wits. You must do the following three things after any small kitchen fire in your home:
Take pictures of the entire area, including everything impacted by the damage, which will help you file any claims with your insurance company. 

Call your insurance company immediately, and explain the situation to them calmly. 

Wait for an insurance agent to investigate the damaged area before you start cleaning up or call fire damage restoration services. 
You don't want to jeopardize the insurance process, as your claim may get rejected if you tamper with anything before the assessment. 
Call 911 Restoration of South Central Pennsylvania Today!
Small kitchen fires can create a mess producing harmful odors and smoke. Don't clean up the hazardous materials yourself, and contact the fire damage restoration experts at 911 Restoration of South Central Pennsylvania today. When our crew is done cleaning up the damage, your small kitchen fire will be a distant memory. Call us now for 24/7/365 fire damage restoration in South Central Pennsylvania.