Fire Damage Restoration Hanover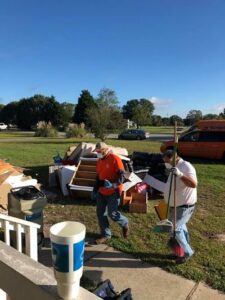 911 Restoration offers complete fire damage restoration to make your home or business better than new. Fire and smoke create a dangerous, smelly mess on your residential or commercial property. 
Fire not only damages your property, it also creates deep emotional distress. Your safety comes first, but we understand how disheartening it is to see your valuables and personal belongings destroyed. Our licensed, bonded, and insured team takes care of cleaning, repairing, and rejuvenating your property. 
Yet we also do whatever we can to reduce your stress. 911 Restoration South Central Pennsylvania has emergency crews available 24/7/365. We arrive within 45 minutes of your call, ready to clear away the debris to begin the Fresh Start you deserve. Our team works with all insurance companies. We directly bill your insurer to remove this burdensome task from your to-do list. 
We are a locally owned and operated business backed by 35+ years of experience from a nationwide restoration leader. Our mission is simple: remove all traces of fire and smoke damage to restore your residential or commercial property to better than new condition.
You did not choose to take this journey after fire and smoke damaged your property, but you are not taking it alone. Call 911 restoration locations for unrivaled service in Hanover, Carlisle, Waynesboro, and throughout our community. 
Can You Really Clean Fire Damaged Material?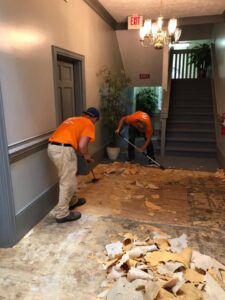 Fire and smoke damage contains many harmful elements. This type of restoration should be done by IICRC certified, highly-trained professionals. 911 Restoration of South Central Pennsylvania uses ventilators, hazmat suits, and other protective gear that allow us to find and eradicate fire and smoke damage. 
We use soda blasting to safely and effectively clean fire damaged materials. Soda blasting is a self-contained cleaning system that "blasts" sodium bicarbonate, creating gentle abrasion. Soda blasting not only clears away soot and ash, it also deodorizes. Sodium bicarbonate is an eco-friendly cleaning agent — you probably know it better as baking soda, although the commercial version is specially formulated. 
Ash and soot are the primary elements that remain after a fire. Ash is that fine, powdery material that remains after something burns. Tiny ash particles travel through the air to cause odor and discoloration. Soot is an oil-based, highly-acidic substance left by items that melted but did not fully burn. The combination of ash and soot, along with any fire damage caused by sprinklers or firefighters, add up to an unhealthy, unpleasant mess.
If you're looking for a certified, reliable fire restoration contractor near Hanover, your search is over. We are certified by the Environmental Protection Agency (EPA) and the Cleaning and Restoration Association (CRA).  Call 911 Restoration South Central Pennsylvania anytime, day or night. 
Call Our Smoke and Fire Damage Restoration Specialists
When you look at your fire damaged home or business, it is easy to feel overwhelmed. At 911 Restoration South Central Pennsylvania, we see past the soot and ash toward a beautiful Fresh Start. Trust our experienced, caring employees to go the extra mile as we transform your home or business to the best it has ever looked. 
We promise that our fire and smoke damage crews take pride in our client-centered services that include:
Cleaning fire damage with soda blasting technology

Cleaning dishes, surfaces, and furniture to remove all traces of ash and soot

Packing out and sorting undamaged belongings

Taking inventory and itemizing lost or damaged belongings

Removing smoke and odor permanently 

Total property restoration 
Our fire damage restoration services begin with a free visual inspection for property owners only. We are a complete fire restoration contractor from start to finish. You want to be sure that your property looks, feels, and smells fresh and clean. 
911 Restoration of South Central Pennsylvania is proud to serve customers near Hanover with proven, reliable fire and smoke damage restoration. Call 911 water damage experts 24/7 for same day service to your residential or commercial property.