Mold Removal Services Near Hanover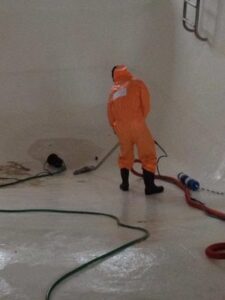 911 Restoration of South Central Pennsylvania offers permanent, safe mold removal for homes, schools, and commercial buildings near Hanover. Our technicians are IICRC certified in mold remediation. Mold thrives in damp, dark places, such as basements, by sinks or toilets, or other areas of frequent or untreated water damage. 
Firstly, we begin with a free visual mold inspection for property owners only. 911 Restoration South Central Pennsylvania specializes in residential and commercial restoration services for property owners in Hanover, Carlisle, Waynesboro, and throughout the region. When you see or smell mold, call anytime, 24/7/365. Our licensed, insured, and bonded techs arrive within 45 minutes for emergency calls and same-day service for non-emergency issues. 
Mold Removal is a danger to your family, employees, students, and customers. Let our highly-trained staff perform our proven mold remediation to give you the Fresh Start you deserve. By the time our caring professionals are finished, your property will look, feel, and smell rejuvenated. We guarantee our mold removal service will pass any clearance test. 
911 Restoration of South Central Pennsylvania works with all insurance companies — we even bill your insurer directly. We are a locally owned and operated business backed by the strength of a nationwide restoration leader. Call now for effective, affordable mold removal for your residential or commercial property. 
We Complete Mold Removal at the Source 
Although mold spores are resilient and easily spread, our certified mold remediation experts identify and eliminate every trace of this dangerous nuisance. We recommend that you call our mold removal specialists to spare you possible health problems if you try to remove mold yourself. Inhaling mold spores can make you ill, and worsen existing medical conditions such as asthma. 
911 Restoration in South Central Pennsylvania conducts professional mold inspection and sampling. We use a third-party laboratory to test the mold. This proven process allows us to fully eradicate mold at the source. If necessary, our team removes and replaces drywall, insulation, and other materials that are mold-infested. We use powerful dryers and dehumidifiers to drive out any trace of moisture and odor. 
Our products are strong but safe to use. 911 Restoration South Central Pennsylvania is certified by the Environmental Protection Agency (EPA) and the Environmental Assessment Association (EAA). We also belong to the Cleaning and Restoration Association (CRA), the industry standard for residential and commercial rejuvenation. 
 Mold Remediation for Homes, Schools, and Commercial Buildings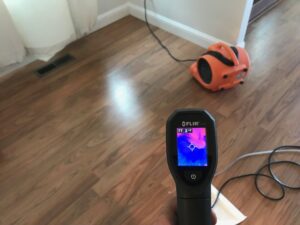 Water damage and humidity invite mold to invade the safety and security of your residential or commercial property. Improperly or untreated mold infestation threatens structural integrity. 
We serve customers near Hanover, from single-family homes to public schools and commercial buildings. 
Enjoy these benefits of our expert mold removal services:
Complete damage restoration for mold-infested areas

Professional mold testing includes air and swab samples

Permanent, safe mold removal with eco-friendly materials 

Powerful anti-fungal protective coating prevents future mold growth

Final test to verify that your property is free from mold
Most property insurance covers the cost of mold removal, as well as any necessary repairs. 911 Restoration is your one-stop solution for all aspects of mold remediation. We also check for ongoing leaks, drips, or areas that are prone to flood during the rainy season. In fact, it is our goal to ensure your health and safety. We will restore your property to even more beautiful condition than it was before. 
We understand how distressing it is to discover mold growing on your residential or commercial property. Above all, our well-trained team is as thorough as they are compassionate about your situation. After all, we are a local business and are committed to helping our community after a property emergency or disaster. 
Call 911 water damage experts for certified mold removal and remediation. We offer free insurance consultations and visual inspections for property owners only. For this reason, the sooner you call, the sooner our highly-qualified staff removes dangerous mold permanently.