Signs of Attic Water Damage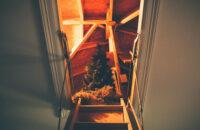 Attic water damage isn't something you hear about often. Your attic may as well be the place where you keep most of your belongings and possession. Your attic is also the place in your home close to your roof. If there are any gaps in the roof, your attic will face the brunt of it. If you think there's a leak in your roof or attic, you have to get someone to handle it immediately. The chances are that by the time you recognize there's water damage, it will have been too late. 
The attic will have water damage due to a leak in the roof. There may be some pipe damage there which you'll have to get checked out. By the time you notice there's a leak in your attic, the water may have already affected insulation or ductwork in your attic. 
Even if you know the cause, it's not easy to deal with water damage in the attic. In the article below, we'll help you explain all the ways that you can look out for particular signs to know the water damage that your attic may have. 
Signs of Attic Water Damage 
We can break down the signs of attic water damage into two major categories 
Roof Leaks 

Pipe Leaks 
A. Roof Leaks 
Roof leaks may tell you that there is water, but it's coming from someplace in the roof. Once you understand where the water is leaking from, you can target that place and get it fixed. 
Discolored Attic Ceiling Materials
If you look up at the attic and see the attic turning a weird brown or mulchy color, it might be due to a leak in your roof. Roof leaks can cause the water to trickle down and accumulate in the space between the roof and your attic ceiling. If you start seeing weird bubbles and colored spots in your ceiling, your roof might have been compromised.  
Mold Growth in the Roof Valleys 
If there's water accumulation from the roof, there can be mold growth in the roof valleys there. You should inspect the roof thoroughly to know whether there's a leak there. Damp conditions are an excellent place for mold to foster. So, if you find there's mold present in your attic, you might have a leak in your roof. Sometimes the leak is evident, like a missing shingle. However, if you have a whole roof, it may get more challenging to single when there's a leak.
Damp Walls Next to Gutters and Downspouts 
You should check the walls next to the gutter and downspouts; if there's water here, there's a leak or crack in the roof where the water is getting in from. The water may be collecting because porous rock and cracks are letting it enter. The damp walls show that the water doesn't have a place to go, and this can cause further problems in your attic. Thus, you must take a step back and ask a professional to come in.
Moisture Around and Under Attic Vents 
Sometimes the vents can have moisture around them as the warmer air comes in and cools down. However, there may be other reasons that there's water around the vents, and you should try your best to understand why this is happening. You can also check out if the ventilation system is working as it should. 
If it is working as it should, the water is likely coming from a leak. When the ventilation isn't working perfectly, you will find that the moisture around and under the vents could be because of the HVAC systems. Thus, you should know the reason behind the leak before calling it out. 
B. Pipe Leaks 
Besides roof leaks, the water damage signs could also be because of leaks in your pipe systems. Here are some signs of pipe leakage that you can look out for. 
Corrosion and Rust on Attic Pipes
If pipes on your attic are water-damaged, some of this water might be leaking out of them. Pipes shouldn't be perfect, but generally, corrosion and rust on the pipe indicate that the water is coming out. The water damage could have caused the pipes to get worse, which is why you should be on the lookout. You can prevent pipe leaks by getting someone to look at the pipes and then replacing them or restoring them.
Water Stains on the Attic Floor 
If there are water stains on your attic floor, they might have been caused by the water from a burst pipe. If you see water puddles on any surface, the water stain is due to a pipe leakage, and you have to take care of this as soon as possible. 
Stains Around the Home's Light Fixtures 
You'll also see water starting to accumulate near the light fixtures in the rooms downstairs. The pipe systems go through your entire home, and it only makes sense that the water would come out in places where it has space to go, like light fixtures. Water in light fixtures could be a sign for pipe leaks. 
Let 911 Restoration of South Central Pennsylvania Help 
If you are affected by Attic Water Damage or want to learn more, call 911 Restoration of South Central Pennsylvania. Our experts will arrive within 45 minutes of your call to deal with the water damage. Our professionals are licensed, insured, bonded, and certified by IICRC. They will deal with the water damage and work with your insurance company, so you get the coverage you need. Visit our website www.911restorationsouthcentralpa.com or call (717) 670-4694.