Sewer Backup Cleanup South Central PA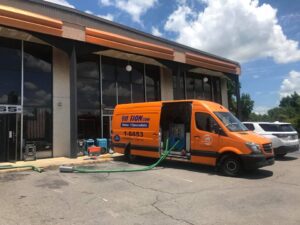 911 Restoration of South Central Pennsylvania is available 24/7/365 for sewer backup cleanup and other types of sewage emergencies. Our licensed, trained, and bonded team arrives within 45 minutes of your emergency call, properly attired and equipped to deal with black water cleanup. 
Our Sewage Backup Cleanup Process
We begin with a free visual inspection (for property owners only).  Next, we perform emergency plumbing repairs to stop the flow. Our IICRC-certified professionals remove water and any solid waste, then dispose of this hazardous material in accordance with the Environmental Protection Agency (EPA) standards. 
Our team assists with emergency boarding, pack-up, and storage for furniture, appliances, and other items that are unaffected. We remove any contaminated material that cannot be properly cleaned and sanitized. We also get rid of odor, so all you see, feel and smell is a beautifully restored property. 
911 Restoration South Central Pennsylvania works with all insurance companies. We provide same-day service to property owners in Hanover, Carlisle, Waynesboro, and nearby areas. We are a locally owned and operated business backed by a nationwide restoration leader with 35 years of experience. No sewage backup job is too big or too small. 
Sewer backups are among the worst of all property mishaps. Our goal is to do more than expert cleanup and repair. We are the Fresh Start restoration company who promises to leave your property cleaner than before the sewage flood. Call anytime, day or night, for fast, dependable sewer backup backup remediation. 
Experienced Biohazard Cleaning Services Near Hanover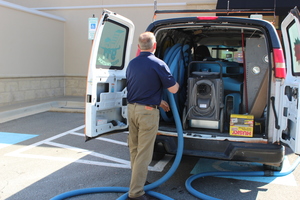 We strongly advise property owners to leave sewage backup cleanup to our highly-trained professionals. 911 Restoration of South Central Pennsylvania brings state-of-the-art extraction, drying, cleaning, and sanitization to your door within 45 minutes. We remove, repair, and restore residential and commercial properties with unbelievable results. You truly would never know that a sewer backup once affected your home or business. 
Our experienced team streamlines the insurance and billing process for you. We complete all specifications required by your insurance company, including filing the claim for you. 911 Restoration South Central Pennsylvania then takes the additional step of ensuring your home or business sparkles with our Fresh Start service. We take extraordinary measures to protect your property and your loved ones from biohazards. 
Sewer backups contain harmful organisms that could include nitrogen, phosphorus, bacteria, viruses, parasites, and heavy metals, such as mercury. Anything that absorbs this hazardous waste must be properly cleaned, sanitized, or discarded. 
A sewage backup might affect your property at any time of the day or night. 911 Restoration of South Central Pennsylvania is near you, with crews onsite to rescue your property from dangerous sewer backup. Call now for complete home and business sewage cleanup. 
What Causes Sewer Backups?
Sewer backup occurs when there is a blockage in your property's sanitation lines. We have experienced sewage backups caused by an obstruction of plastic, grease, and other insoluble materials. Other blackwater emergencies are caused by tree roots that pierce the pipes in search of water.
When sewage cannot flow in the proper direction, pressure builds up. Eventually, this pressure causes sewer water and waste to flow backwards and up into the lowest drain on your property. It might be a bathtub, toilet, shower, dishwasher, or any other water connected appliance or plumbing fixture. 
No matter what caused sewage to invade your property, 911 Restoration of South Central Pennsylvania is here to help. Our sewage backup services near Hanover include:
Free consultation and estimate

Waste removal using industrial grade pumps

Powerful ventilation systems that bring clean air and push stale air out

Dehumidifiers to remove all moisture

Microbial treatment to permanently remove odor and prevent mold growth
We also test and evaluate for potential structural damage. Our process is meticulous because we refuse to cut corners when it comes to our customer's health and safety. 
If your residential or commercial property has sewer backup, call 911 Restoration South Central Pennsylvania. We are your one-stop property solution for biohazard cleaning services, water damage restoration Harrisburg PA, mold removal Lancaster PA, and more. Call now for sewage backup cleanup near Hanover. 
Serving the communities of Carlisle, Hanover, Shippensburg, Waynesboro and surrounding area.