Different Types of House Fires and Fire Restoration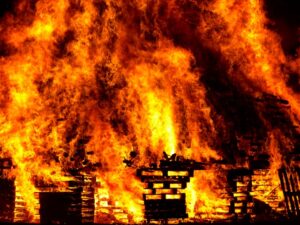 Want to learn more about the most common types of house fires and what you can do to prevent them? You couldn't have landed at a better place!
As per the report released by the National Fire Protection and Association, there were 481,500 structure fires in the US in 2019. The same year, $14.8 million worth of properties got damaged due to fires. This was a decrease from the previous year in which $25.6 million worth of property got damaged due to fire hazards.
We all know that fires can start anywhere at any time. However, there are a few common types of house fires that are responsible for most incidents.
Let's take a deeper look into them!
5 Common Types of House Fires
Kitchen Fires
The first most common type of house fire is kitchen fire, which is responsible for 49% of all residential fires. Kitchen fires are mostly caused by greases that become overheated on the stove or in the oven. Keep in mind that grease fire is extremely dangerous because they can quickly spread to cabinets and other flammable areas of the kitchen as soon as the grease spills over the counter or the floor.
Kitchens are where heat, electricity, and water come together, and cooking equipment is stored, which can catch fire quickly if overheated. That's why it's of utmost importance to never leave the kitchen unattended, especially when you are cooking a meal that produces grease, such as bacon and fish.
Other than grease fires, kitchen appliances and oven fires are also common, which are caused when water comes in contact with electricity
Electric Fires
The major causes of electric fires are faulty electric outlets, light fixtures, extension cords, space heaters, worn-out breakers, and old appliances. As per the report published by the Electrical Safety Foundation Internation, every year, around 51,000 electric fires occur that account for nearly 1,400 injuries and 500 deaths.
To prevent electric fires, make sure you inspect electric cords regularly and discard the worn-out ones. It's also important to unplug the heating appliances when you are not using them. Follow the instruction manuals that come with appliances like washing machines, microwaves, and toasters. It's recommended to get your wiring checked out by a professional every three to five years.
Heater Fires
According to the Consumer Product Safety Commission Report, portable electric space heaters are responsible for around 1,200 fires caused each year. Space heaters are the leading cause of fires.
Most of the heater fires occur because of the heater being placed too close to the combustibles. That is why, you have to make sure that regardless of which type of heater you have, you place it at a minimum of 3 feet distance from anything combustible.
The second leading cause of heater fires is fireplaces. In San Diego, chimneys and fireplaces are never maintained and swept. Every year, around 25,000 chimney fires occur in the US which accounts for 124 million worth of property damage.
Smoking-Related Fires
Smoking is bad, not just for your health, but for your house too. As per the NFPA report, during 2012 and 2016, 5% of the reported home structure fires were caused by smoking, which resulted in 590 deaths, 1130 injuries, and $476 million worth of property damage.
A cigarette that is not put out properly or discarded improperly can furniture, mattresses, and bedding, and other flammable materials. Smoking in bed is considered the most dangerous and should be avoided at any cost. If you must smoke, do it outside your house to ensure that the cigarette doesn't come in contact with flammable objects.
Candles
The National Fire Protection Association says that each year, around 23,000 residential fires are caused by candles which result in 165 deaths, 1,525 injuries, and $390 in property loss. During 2014 and 2018, candles caused around 7,600 fires that resulted in 81 deaths, and 677 injuries.
Most incidents are caused by negligence where people either leave a burning candle unattended or leave matches and lighters in a place where children can reach them. The holiday period is the prime time for fires caused by candles.
To enjoy a safe holiday season, make sure you keep candles and lighters out of the reach of kids and pets, keep candles away from flammable materials, and never leave a burning candle unattended.
Home Restoration After Fire
There are several reasons why you need to get a home restoration after the fire done. Home restoration experts assess the damage, take tests, and immediately start the process of restoring your home after a fire.
Home restoration experts have proper and advanced equipment to perform their job accurately and give your house a deep clean, which is necessary to overcome the damage. If you are planning to do home restoration after fire on your own, keep in mind that it can be extremely expensive and time-consuming.