Cleaning up Blood off the Rug & Sanitizing – A Quick Guide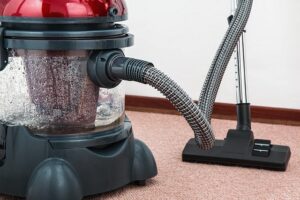 Let's face it, staining carpets is bound to happen to all of us one time or another. No matter how careful we stay and try to maintain the carpet's aesthetic, we end up spilling something on it, leaving a bloodstain, or your beloved pet using it as a litter box. Looking at stains on your carpet, which was perfectly clean once, is annoying. Worry no more! Bloodstains are relatively easy to come off if you take action instantly. With stains, the sooner you act, the better!
With the suitable methods and correct materials, you can easily take off blood stains and sanitize your stunning carpet again, making it look as good as new. Here are a few steps you can take to clean that bloodstain off.
Step 1: Take Off the Excess
If the bloodstain on rug is new and hasn't dried up yet, take a dry absorbent paper and gently dab the bloodstain so the excess comes off and doesn't spread when you try cleaning it. Taking off excess blood would prevent the stain from spreading further in the next few steps you take. Please don't skip this part, and make sure your stain feels drier after dabbing it with a paper towel. Also, another tip is never to wipe the stain off as it would spread the stain further onto the carpet. Dabbing it would help it remain in its place.
Step 2: Use Water
This might be surprising, but yes, this step requires you to use plain water with no liquid detergent, washing powder, or soap. Spray water onto the stain and then dab it with an absorbent white cloth to remove the excess water and blot it dry. Always use cold water to take off bloodstains as warm water can thicken blood, making it stick more to carpet fibers. Hot water makes it difficult to take off bloodstain. Doing this step is crucial as it would slightly take off the bloodstain and damp the area for the next step.
Step 3: Apply Potato Starch
After the second step, spray water on it again, and the bloodstain should look dissolved. Drizzle potato starch on top of it so it sticks to the wet surface, and leave it to dry for 24 hours. When the starch dries up, vacuum it, and with it, the stain would come off. This is an easy home remedy to take bloodstains off. These three steps would be successfully take off the bloodstain, but if you're not happy with the result, you can always go on to the fourth step or contact 911 Restoration for carpet cleaning services.
Step 4: Use Carpet Stain Remover
You're now on step 4, which means you're not happy with the result. This may be because it was an old stain. The quicker you take action, the better. This is where the cleaning agent comes in, and it can even remove old stains. It is recommended never to use cleaning agents that contain bleach or chlorinated agents. Using these will further ruin your carpet by discoloring it. Stain removing cleaning agent is a little harsher for carpet fibers, so even a little can do wonders. Don't spray too much on the first go, as it might end up ruining your carpet. Be gentle with your carpet, and make sure to read and follow the instructions written at the back of the product.
Step 5: Sanitize Your Carpet.
Invest in a steam cleaner! This can disinfect and sanitize your carpet by removing germs and viruses. A steam cleaner works for all different types of carpets and rugs. Read all the instructions given on the box before using a steam cleaner. It works best on pre-treated stains and is an excellent way to sanitize and get rid of bacteria and viruses in your carpet. Take it slow and do one section at a time. This may also help in completely taking the bloodstain off. After that, allow the carpet to dry completely.
Still not happy? This is when you can call 911 Restoration to help you clean and sanitize your carpet. Home remedies can work well at times, but when it comes to an expensive and good-quality rug, you need a professional company to help you restore the damage. 911 Restoration provides residential and commercial restoration services, including carpet cleaning. With covid-19 on the rise, 911 Restoration can also help you sanitize your residential and commercial buildings to make them safe for you and your guests.
Carpets can last a lifetime if appropriately taken care of. With professional help from 911 Restoration, we can guarantee to clean your carpet using the best quality products and make it look new. We provide services all over Pennsylvania. Call now at (717) 670-4694 or visit our page to avail our carpet cleaning services now! Our workers are available 24/7/365 and arrive within 45 minutes of your emergency call.